May 2023 update: SOLD OUT, a waitlist has started. Hop on the waitlist HERE for no charge.
I love everything fall. The colors, pumpkins, hot soups, warm sweaters, etc. It was brought to my attention that there was a sweet but neglected loop near the top of Blewett Pass that had larches and loads of autumn color. A scouting trip mid-October 2019 to the Swauk Forest Discovery Loop confirmed the above – beautiful color and larches abound but down trees and overgrown bushes everywhere. The Cle Elum Ranger Station is excited about the potential of The Golden 6 Hour serving as the steward of the Swauk Forest Discovery Loop for future years. Join us on October 14, 2023!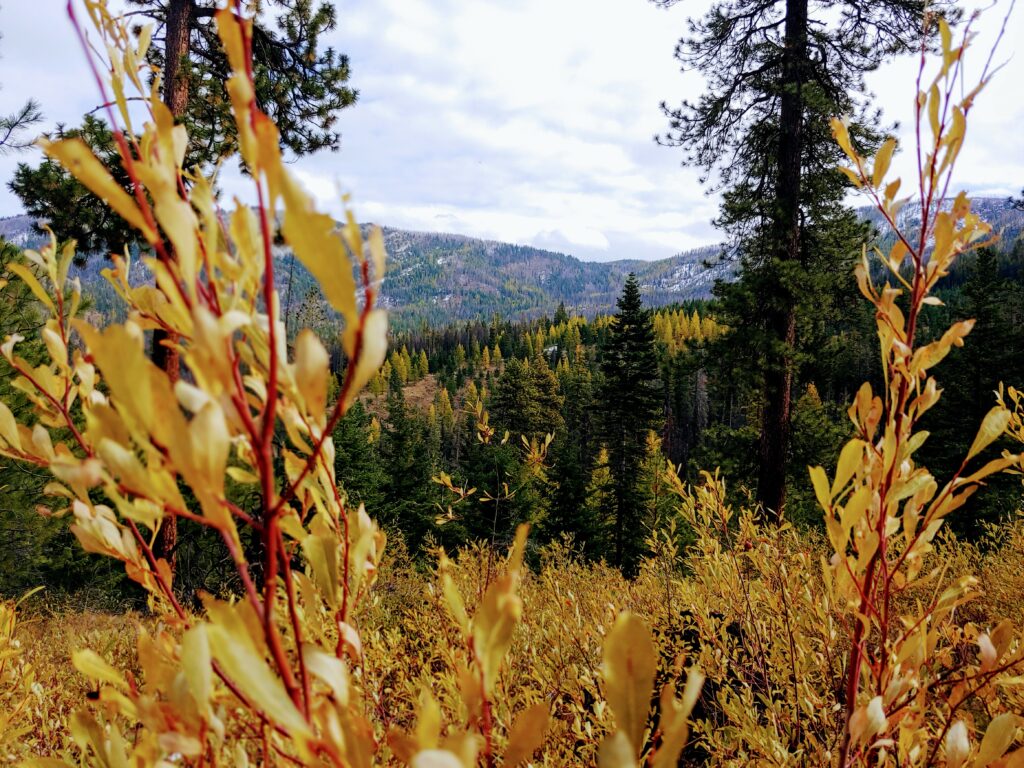 Registration
Registration will open on Ultrasignup. Included in your $85 entry ($100 after May 9th) is a thermal mug with an original larch design and a beanie for those runners who run/hike/walk all 6 hours. Space is limit to 85 runners and there will be a waitlist if it fills. The top man, woman, and non-binary runners will be awarded a cozy zip-up hoodie! REGISTER HERE.
Results // King & Queen of Loops in the Larches
2022 was the inaugural year and we had 77 runners start and 59 beanies handed out! Brianna Boley had the overall most loops with 13 coming in just under the wire. Bri also won the Territory Run Co. hoodie in the women's race but Stephanie Wang was hot on her heels for most of the day and finished with a strong 12 loops. Wesley Vahsholtz ran the most loops in the men's race with 11 loops, just two minutes faster than Ryan Libby…yee-haw!
Results are now posted on Ultrasignup. Miles were based on most GPS accounts of the loop being 2.6 miles (hey, I always like to round up!).
PHOTOS:
A HUGE thank you to Ryan Thrower for taking photos all day long. We love how he captured the vibe and feel with so many great, fun photos! Here is the link: https://ryanthrower.smugmug.com/Golden-Hour-6-Hour/. Please give Ryan photo credit if you share any of his photos.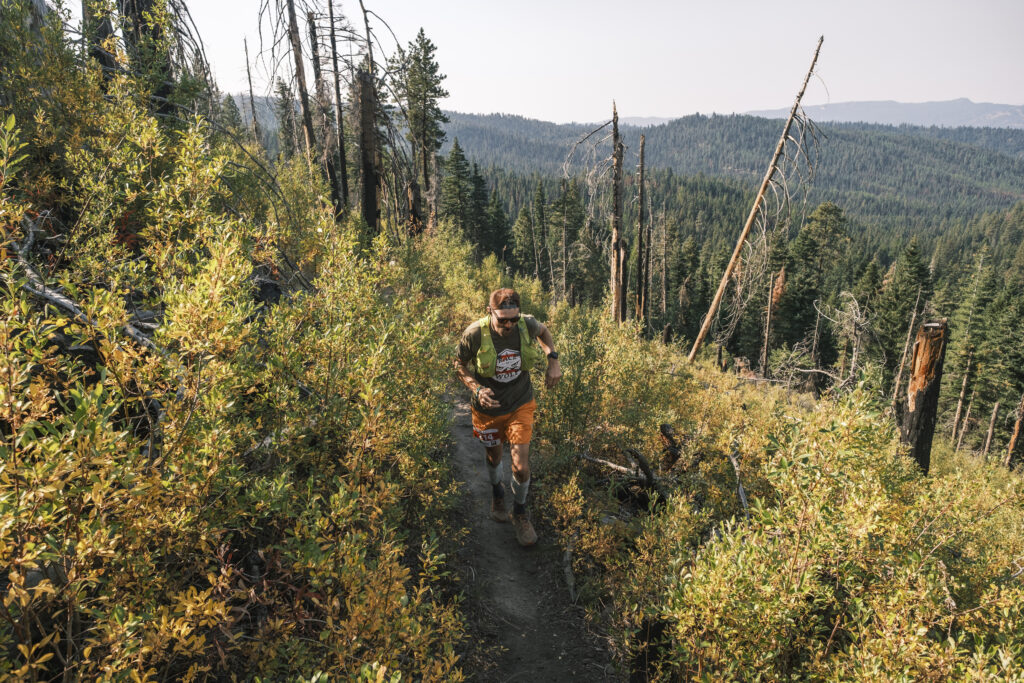 Course // Aid Station
The Swauk Forest Discovery Trail is a 2.45 mile loop near the top of Blewett Pass. It's all single-track that winds through a variety of woods, vegetation, and has mountain views. HEADS UP – this is a stout, little mountain loop with close to 650ft of elevation gain!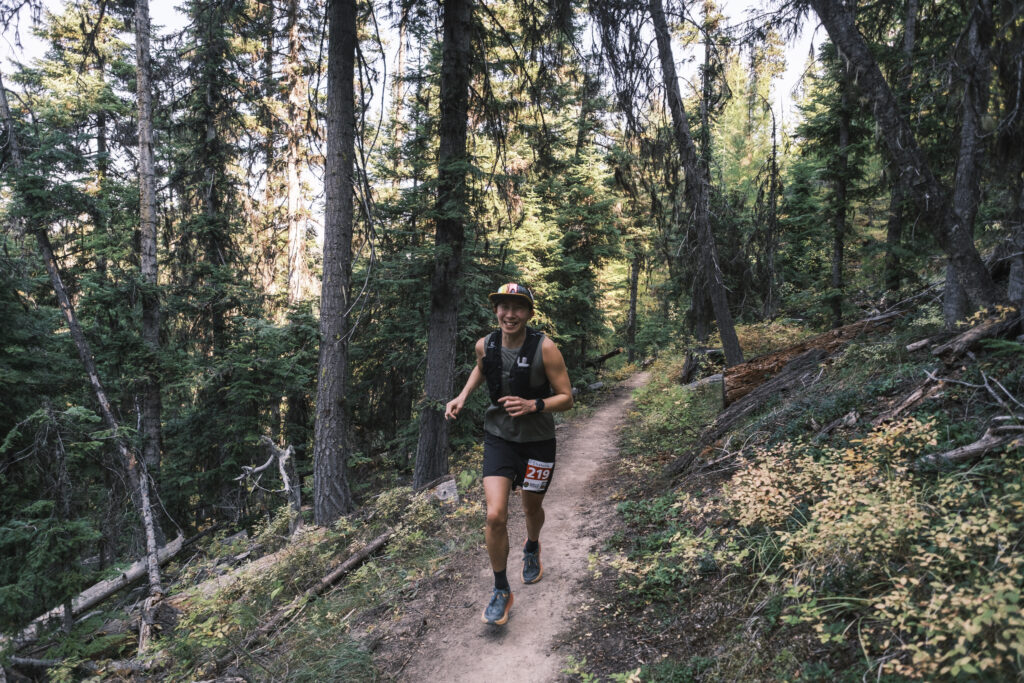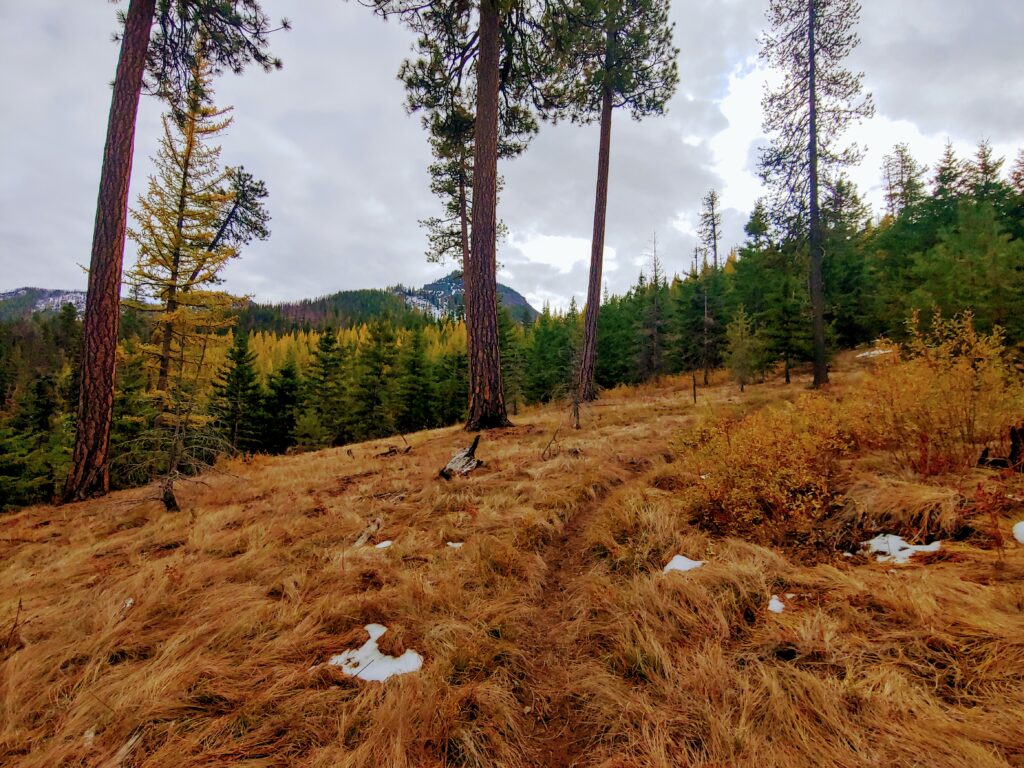 Aid Station – BRING ON THE PUMPKIN PIE
I am not joking about the fall themed aid station. There will be hearty soups, hot apple cider, my favorite Halloween candy, Oktoberfest beer, roasted pumpkin seeds, etc. UPDATE – we will not have a pumpkin pie contest since no homemade food is permitted. However, we will have pumpkin pie at the aid station! Vaccinated volunteers will be serving runners.
Swauk Forest Discovery Loop – directions & lodging
From the WTA website: Heading west on Hwy 2, turn south onto Hwy 97 and proceed approximately 21 miles. Turn left at the Pipe Creek Sno-park parking. Follow NF-9716 uphill approximately a half-mile to Swauk Forest Discovery Trail parking area. Trail head is to the right of toilet facilities and information signs.Heading East from Ellensburg or Cle Elum on Hwy 97, follow Hwy 97 approximately 14 miles and turn right at the Pipe Creek Sno-park parking. Follow NF-9716 uphill approximately .5 miles to Swauk Forest Discovery Trail parking area. Trailhead is to the right of toilet facilities and information signs. Parking Pass/Entry Fee: Northwest Forest Pass
Lodging: There are a lot of fun options. Flying Horseshoe Ranch is 21 miles away, Leavenworth is 26 miles away, and Cle Elum is 27 miles away. Make it a weekend getaway! To make reservations at Flying Horseshoe Ranch, call Penny Blackburn at (509) 674-2366. There is a $25 camping fee per night at FHR which allows you to use the ranch facilities. FYI – this is during Leavenworth's Oktoberfest. Please note though that these trails and parking lot is open to public so it is first come, first serve.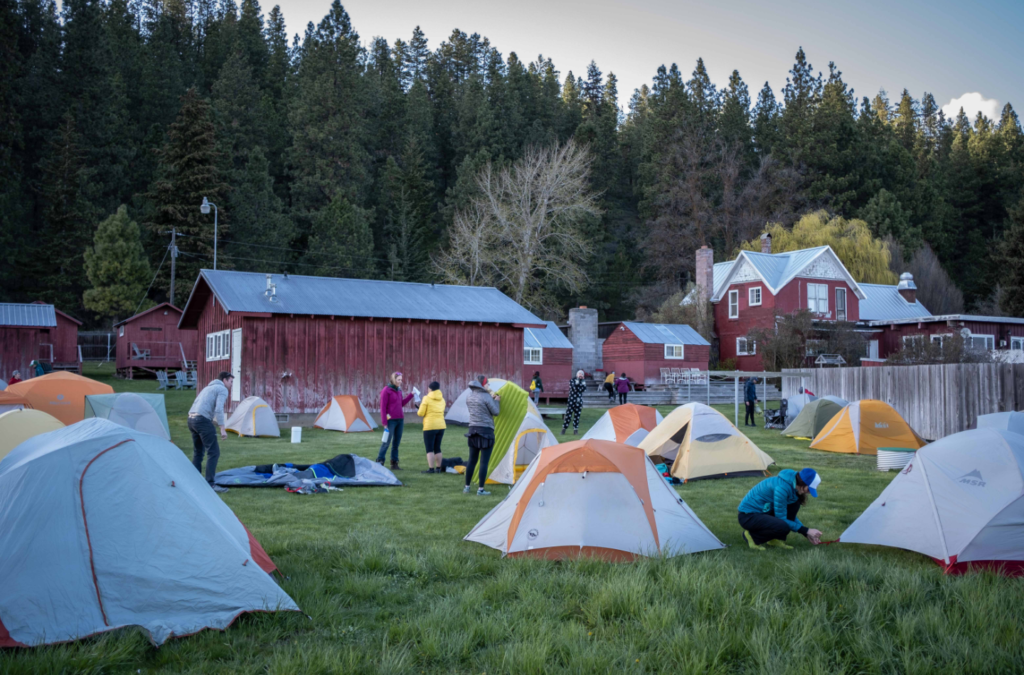 Schedule
Friday, October 13th, 2023
5:00pm-6:30pm – bib numbers & mugs at Flying Horseshoe Ranch (come stay the night at the ranch and have time for a hearty breakfast in the morning – YES!)
Saturday, October 14th, 2023
8:30am – check-in
9:45am – pre-run briefing
10:00-10:10am – run into the larches
4:00-4:10pm – course closes
Beanies will be handed out as runners finish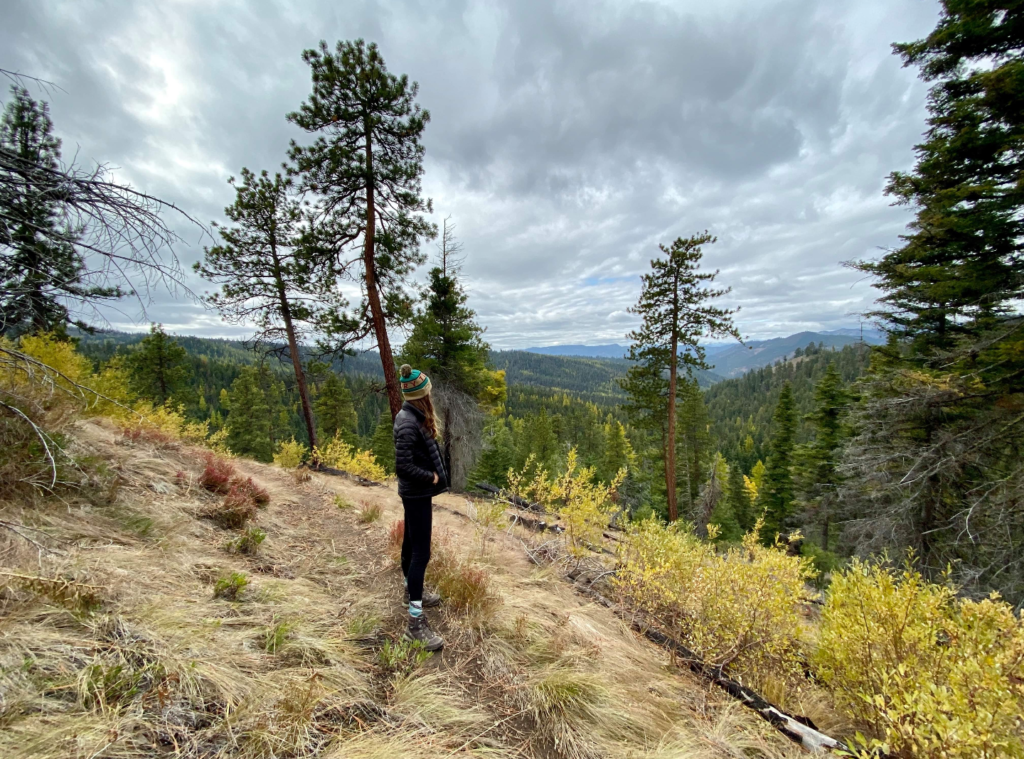 Q&A // Rules
What is Walla Trails doing to keep runners safe pre-event, during the event, and post-event? We know and recognize that Covid guidelines are continuing to change and may look different when the event happens. We will abide by the WA State Covid guideline for the event. Here are the key safety measures we will take regardless:

Volunteers will be vaccinated and use hand sanitizer during check-in and at the aid station
Hand sanitizer will be available at the start/finish/aid station area

What is Walla Trails asking runners to do pre-event, during the event, and post-event? Here are key safety measures we need all runners to follow:

Stay home if not feeling well

Please use hand sanitizer as soon as you arrive, after you use the restroom, and after you finish the race

What if there's a storm the weekend of the event? We are indeed running on a mountain pass right before winter which could mean wild weather. We will keep a close eye on the weather a few weeks before the event and if it looks like snow is in the forecast, we will make a final decision on Thursday, October 12th. There will be a fun plan B in place (which will be communicated at least a week before the event).
Are spectators allowed? Yes, but if friends or family drive separately, they will be asked to park in the lower parking lot, about .5 mile walk to the start/finish/aid station area. Carpooling is encouraged!
Are dogs welcome? NEW – NOT ON COURSE – Insurance will not allow dogs on course – sorry! Dogs are welcome to be on leash in the parking lot area and by the aid station.
What if the race is cancelled due to COVID or poor air quality (anything above 150 AQI)? We will offer rollovers for 2024 or 50% refund pending recouping costs of supply shopping, insurance, and rentals.
Are there any refunds in general? Yes:

50% refund by May 9th, 2023
No refunds on or after September 14th, if spot is filled from the waitlist

Are there rollovers? No unless we cancel the event.